If you've watched any baseball highlights recently, you've probably seen a familiar face lashing line drives. Paul Goldschmidt has a 22-game hitting streak and 28 extra-base hits on the year, which makes him a regular in game recaps. That frequent loud contact has produced one of those hitting lines that makes it clear that we're still early in the season: .352/.422/.626 screams "small sample!" as loudly as Dan Szymborski does every April.
Sure, that's true. I don't think that Goldschmidt is going to post a .402 BABIP on the season. I don't think that he's going to keep hitting homers on 18% of his fly balls while also hitting fly balls more frequently than he ever has, or posting a pristine strikeout rate while chasing more often than league average. But again, he's hitting .352/.422/.626. He has plenty of space to cool off while still being red hot, so let's look at how he's setting himself up to succeed.
Want to hit a home run? Step one is to swing at a good pitch. Goldschmidt has done exactly that this year; the location and type of the pitches he's hit for home runs look like a hitting textbook: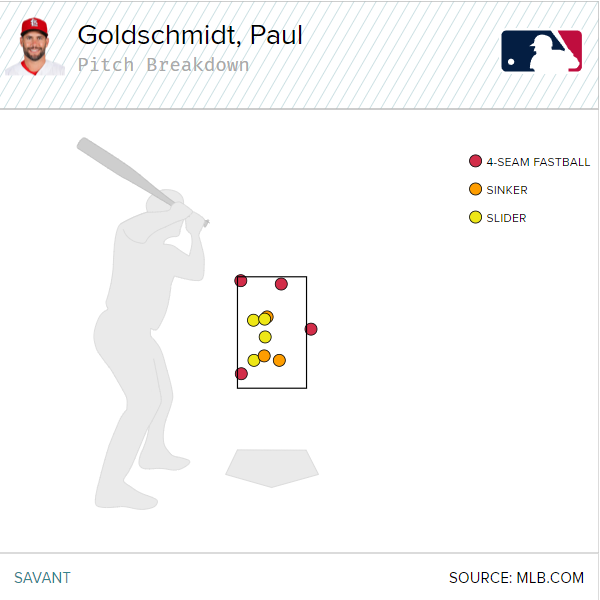 Hanging sliders, sinkers that don't sink, and four-seamers all over the place? That's how they teach it to you in slugger school.
When he makes contact, he's pulling the ball more than ever. Eight of his 11 home runs have been pulled, with another two going to straightaway center. The lone exception? It was on that four-seam fastball away that you can see up above. Goldschmidt is, after all, still an excellent hitter, with enough power to hit the ball where it's pitched. He's simply picking inside and middle pitches and pulling them into the stands.
He's never pulled a higher proportion of his balls in the air, and he's doing it through changing his swing decisions. Take a look at the proportion of his swings that have been on inside pitches; more specifically, on pitches closer to the right-handed batter's box than the dead middle of the plate:
% of Swings Taken on Inside Pitches
| year | Swing% |
| --- | --- |
| 2011 | 42.1% |
| 2012 | 49.5% |
| 2013 | 46.2% |
| 2014 | 50.1% |
| 2015 | 49.8% |
| 2016 | 47.8% |
| 2017 | 43.5% |
| 2018 | 47.3% |
| 2019 | 49.0% |
| 2020 | 52.6% |
| 2021 | 48.8% |
| 2022 | 56.2% |
That's just a smart way of hitting. If you want to maximize your power, as Goldschmidt clearly does, just find more pitches to pull.
But wait! Goldschmidt has never seen more inside pitches than he's seeing this year, which makes it a lot easier to swing at inside pitches. He's swinging at a high rate – 54% – but it's not the highest of his career. He's simply taking what pitchers are giving him, and right now, that's a bundle of smashable pitches.
By doing that, Goldschmidt is furthering a renaissance that I think many people have missed. He's a victim of our overzealous pattern-matching brains; Goldschmidt's first year with the Cardinals, 2019, was his worst since '12, and that was his age 31 season. Worst season at age 31? I know where that normally ends up.
Only, it didn't. Goldschmidt came back with a vengeance in 2020, posting a 147 wRC+ and 2.3 WAR in only 58 games. It didn't get much attention, because 2020 was, well, 2020. Then he backed that up with an excellent 2021, with 31 homers and 5 WAR. Again, he was overshadowed, this time by the arrival of Nolan Arenado in St. Louis. This year, he's simply been too hot to ignore; his 194 wRC+ is fourth in baseball, behind only Mike Trout, Aaron Judge, and José Ramírez.
Who's been the best first baseman in the game since the start of the 2020 season? If you said Freddie Freeman, you're right – but just barely. He and Goldschmidt are in an effective tie for first, miles ahead of the competition:
Best First Basemen, 2020-22
Vlad is exciting. Olson is a hot commodity playing in his hometown. Goldschmidt? He's just chugging along, swatting homers and playing his usual good defense. His skills – solid walk rate, solid strikeout rate, high BABIP, plus power on contact, plus baserunning – don't jump off the page. He's better than average at almost everything, but the best at nothing. He doesn't lead all first basemen in homers, or RBI, or runs. He doesn't lead them in batting average, OBP, or slugging percentage. But he's in the running in every category, with no real weakness in his game, and that's enough to lap the non-Freeman field.
So can Goldschmidt keep chugging along, producing league-best numbers with minimal hype? If he does, it'll be on the back of continuing to lift and pull inside pitches, because I foresaw increased strikeouts in his future. While his strikeout and walk numbers look just fine this year, there's some worrisome data under the hood.
For pretty much every batter, the best way to hit for power is to swing at pitches over the heart of the plate. Goldschmidt has never swung less frequently there than he has this year, with the exception of his brief 2011 cup of coffee.
Is he just swinging less overall? Not exactly! The opposite of the heart of the plate is the chase and waste zones, as defined by Baseball Savant. That includes pitches that are off the plate, and not near the edges – sure balls that batters swing at only when they're fooled. Again with the exception of a cup of coffee in 2011, Goldschmidt has never swung more frequently at those pitches than he has this year. From a swing decision perspective, he's doing exactly the wrong thing and prospering.
That might sound like bad news, and well, it kind of is. I don't care who you are; swinging less often at pitches in the middle of the plate and more often at pitches that would otherwise be sure balls is a bad plan of attack.
If you think about it long enough, though, you can convince yourself that this might actually be a good thing. Goldschmidt has made some bad decisions – and his newfound pull power still has him mashing. His barrel rate hasn't declined, his hard-hit rate is roughly in line with what it's been for the past few years, and he's elevating the ball as well as he ever has. In fact, most of the poor plate discipline numbers stem from a rough patch early in the season, as you can clearly see on a chart: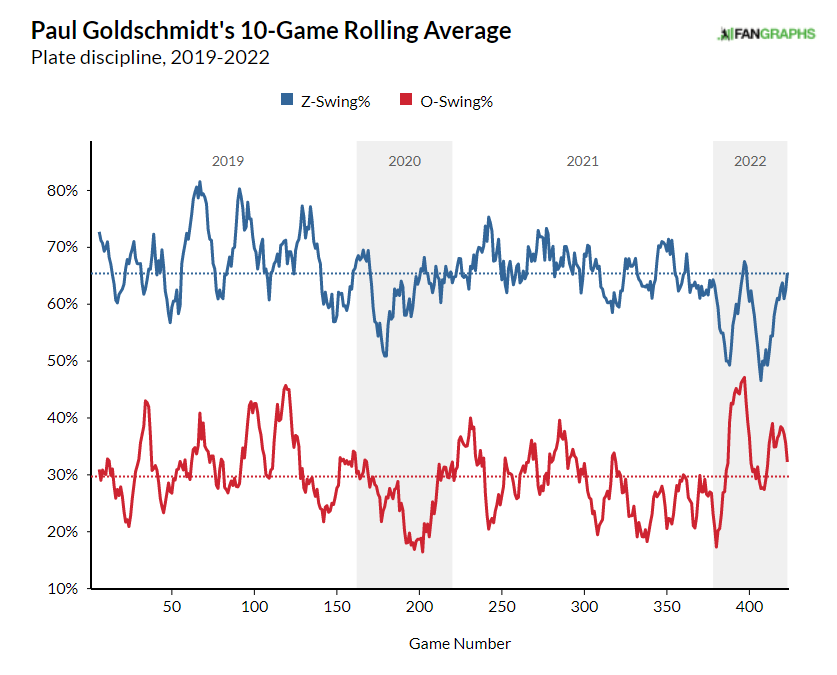 Early in the season, he had some chase issues. In straightening that out, he swung much less at everything, which tanked his swing rate on in-zone pitches. But now he seems to have righted both ships, swinging as frequently at good pitches as he used to while mostly laying off bad ones. I don't think he's likely to maintain his current form; hiccups like that will happen from time to time, and it's fair to say that Goldschmidt's overall plate discipline has declined since last year. But the full-season numbers make him look worse at distinguishing balls from strikes than he's showing right now, and again, his full-season numbers are pretty good as it is.
Was he this kind of a hitter all season, with the weird blip higher in chase rate early in the season simply an aberration? Did he make changes to fix his game after a rough start that saw him below average with the bat as late as April 27? I couldn't tell you which it is, but his plate discipline of old has returned while pitchers have continued to pitch him inside. The result? He's been the hottest hitter in baseball since the start of May, and if he continues to show the same solid approach at the plate the rest of the year, he'll have another superlative season to show for it.