Dan Graziano reached out to NFL executives, coaches, and agents, asking about two quarterbacks—Baker Mayfield of the Cleveland Browns and Jimmy Garoppolo of the San Francisco 49ers. The Browns have a mess on their hands. They pulled off a blockbuster trade for Deshaun Watson, and the legal issues continue to pile on the talented quarterback. Mayfield, scorned, wants out and is unlikely to do the Browns any favors.
"The Garoppolo situation has been less messy, other than the surgery," one NFL executive told Graziano. "That makes you think, once he's healthy, San Francisco has the better chance to get something done."
Nothing is certain, though. The number of quarterback-needy teams has been significantly reduced since March, when Garoppolo underwent shoulder surgery, halting all trade talks.
The Carolina Panthers remain a possibility. Although, they are reportedly in no rush to take on the veteran quarterback's hefty salary.
San Francisco would like to avoid releasing Garoppolo, allowing him to sign with the division-rival Seattle Seahawks while the Niners receive nothing in return. However, something will need to be done before Week 1.
"As it stands now, San Francisco could cut Garoppolo and take on only $1.4 million in dead money against his salary cap," Graziano explains. "If it waits until after Week 1 to cut him, that number would jump to $26.4 million."
What is the most likely outcome for Garoppolo and Mayfield?
"The majority of the people to whom I spoke for this story believe both players will likely end up being released," Graziano shared. "A couple of people thought Garoppolo might still draw trade interest, provided an acquiring team could work out something to knock down the salary or spread it out over a couple of years."
Graziano says the Panthers remain the most popular destination for Garoppolo, should the 49ers manage to pull off a trade instead. The ESPN writer also mentions the Seahawks and Atlanta Falcons as possibilities. However, neither will likely consider the quarterbacks if they aren't released.
"The Browns and 49ers likely hope other teams' situations change and the market widens," Graziano added. "Perhaps a quarterback suffers an injury at the position, and they can do something like the Eagles did in 2016 when they feel Sam Bradford to the Vikings right before the season when Teddy Bridgewater got hurt. Perhaps a team that feels good about its quarterback situation gets into camp and that changes, then revisits the idea of ​​a trade."
Then you have the worst-case scenario submitted to Graziano by one of those with whom he had discussions.
"Why not trade them for each other?" the individual suggested. "San Fran saves some money, Cleveland gets a better backup option than [Jacoby] Brissett. Baker gets to work with Kyle [Shanahan] for a year and be next year's [Mitchell] Trubisky."
Nobody's perfect. Did you find a mistake in this article?
Report it.
Facebook Comments
More San Francisco 49ers News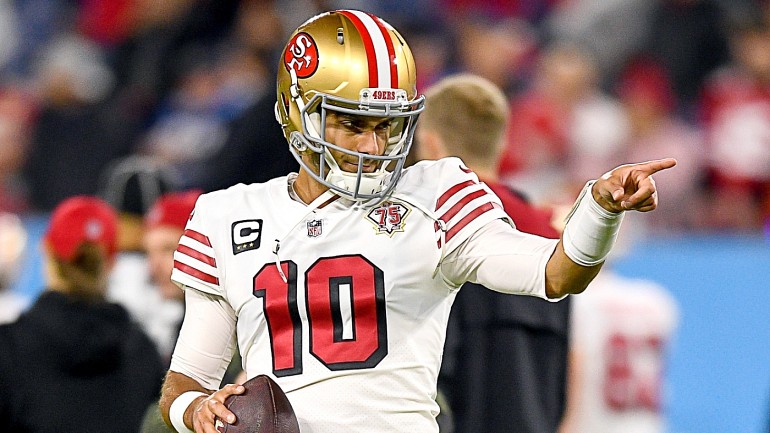 Where 49ers' Jimmy Garoppolo landed in Chris Simms' QB ranking, and what it means for Trey Lance
Earlier this month, NBC Sports analyst Chris Simms revealed where Trey Lance landed in his ranking of the top 40 NFL quarterbacks—at No. 31. Simms was critical of the San Francisco 49ers' second-year player, noting that Lance has the potential to succeed but has accuracy issues and hasn't developed as quickly as hoped. "I'm not sold on the whole potential thing with Trey Lance, everybody," Simms later added. "That's why he's [ranked at] 31. …I'm not sold on his potential. I would never draft this guy at quarterback." For now, Jimmy Garoppolo remains on the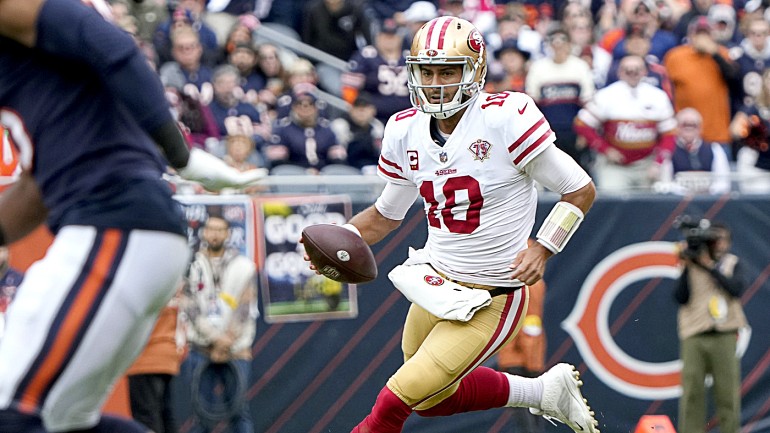 Rapoport on if 49ers can't trade Jimmy Garoppolo: They have to let him compete
The San Francisco 49ers want to trade Jimmy Garoppolo. They hope to trade the veteran quarterback when he fully recovers from his March 8 shoulder surgery, which should be in about a month. Last night, general manager John Lynch, speaking at the "Dwight Clark Legacy Series" event, said he expects the trade conversations to resume once Garoppolo is healthy. At the Dwight Clark Legacy Series event, John Lynch says he expects Jimmy Garoppolo trade movement to resume when he gets healthy, which is expected in about a month. Lynch spoke of Garoppolo's contributions to the 49ers in the past tense, says Trey Lance's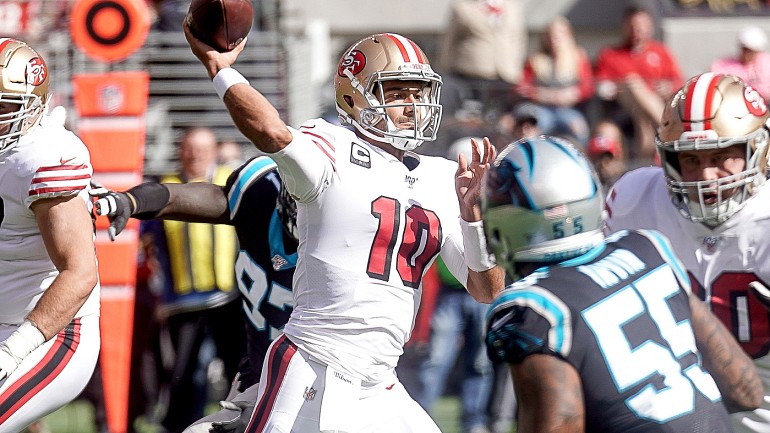 Panthers reportedly 'want no part' of 49ers QB Jimmy Garoppolo's hefty salary
What's going to happen with Jimmy Garoppolo? Fans want to know. The media wants to know. The San Francisco 49ers are probably anxious to find out. The veteran quarterback has likely thrown his last pass with the team. The Niners tried to trade him, but offseason shoulder surgery stalled those talks. The 49ers would prefer to avoid releasing Garoppolo and getting nothing in return. Instead, they are waiting for Garoppolo's shoulder to heal and see if a more desirable option presents itself. Many feel the Carolina Panthers could be an option. They could use an upgrade at quarterback, and most would consider Garoppolo better than their current group of Sam Darnold, PJ Walker, and rookie Matt Corral, even if the 49ers quarterback is only a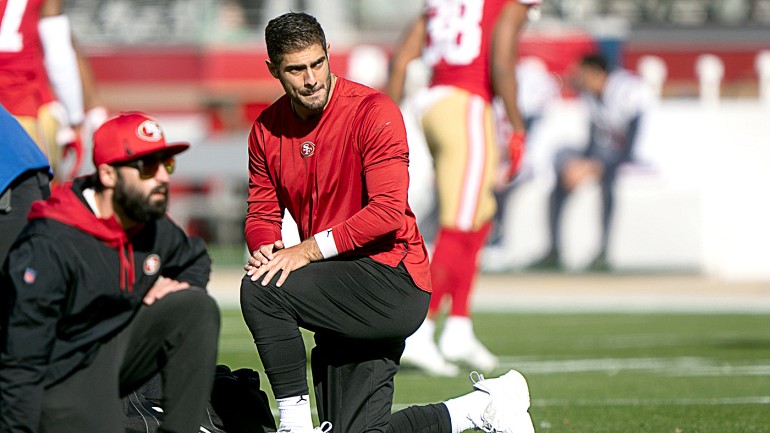 49ers officially excuse Jimmy Garoppolo from mandatory minicamp
This news shouldn't come as a surprise to anyone. The San Francisco 49ers have excused quarterback Jimmy Garoppolo from this week's three-day mandatory minicamp, which kicks off on Tuesday. The minicamp was initially slated for next week but was pushed up in the offseason schedule. Garoppolo is still rehabbing from the shoulder surgery he underwent on March 8 and continues to rehab away from the team. He isn't expected to begin throwing until the end of this month, possibly early July. The #49ers have excused
.