As the 2022 NFL season is yet to start, all the teams are busy promoting their side with their leading faces. Recently, a sneak peek video clip was posted on social media by the Broncos of their leading QB, Russell Wilson. No matter the motive behind the video, it did not go well, and the NFL world reacted to it hilariously.
Sports analyst Pat McAfee had posted a video on his YouTube channel 'The Pat McAfee Show' titled "Broncos Post The Most Awkward Video Of Russell Wilson EVER". In the video, Pat discusses the whole scenario and what the world is currently thinking about the Broncos.
WARNING
Article continues below this ad
Pat said, "He was selling out for that. They were going all in and it was only supposed to be one clip, bump, bump, bump, bump, bump to everybody. And then the show is 7 different variations." He adds, "That's him being a thespian and buying in and trying to make the Broncos better. And that social media team. They still get good interaction anytime. The quote tweets are 10X the retweets. Not great."
McAfee argued that the video should not be posted as Russell Wilson is doing his best in what he can. He is putting in every effort to make the Broncos look better. Though the social media team got good interaction, it did take a toll on the star QB image.
DIVE DEEPER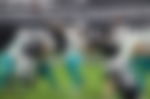 Former Colts Punter also stated that the team should be aware of what goes well with the folks on the internet. They should be very clear while posting such things as it can go another way round.
Denver Broncos has posted a video of Russell Wilson delivering a line in many takes
The Bronco's social media team had posted a 24-second short video of their star QB Russell Wilson. In the video, Russell was standing in front of the green screen and delivering the dialogue "Broncos Country, let's ride" in different variations.
WARNING
Article continues below this ad
The video was a preview of a shoot that is currently going on. The catchphrase "Broncos Country, let's ride" was cornered by Russell himself when he signed a deal with the Broncos in March.
WARNING
Article continues below this ad
Russell Wilson joined Denver Broncos this season after playing his 10 seasons with the Seattle Seahawks. This year, Russell would be looking to bring back the glory that the Broncos, former QB Peyton Manning had left behind.
Watch This Story- Vikings GM Offers Strong Take on Colin Kaepernick Situation