For as much slack as Tyler Anderson and Tony Gonsolin have been picking up in the Dodgers rotation lately, the news that Walker Buehler will miss a large chunk of the remainder of the season is a gut punch. The 27-year-old righty departed Friday night's start against the Giants with elbow discomfort — his second early exit in a row — and after undergoing an MRI on Saturday was diagnosed with a flexor tendon strain. He will be shut down completely for six to eight weeks before restarting a throwing program, all but guaranteeing that he won't see major league activity again until September.
Buehler struck out the side in the third inning on Friday night, but via MLB.com's Juan Toribio, he "noticed something was bothering him after throwing a breaking ball" during the frame. While he made it through that inning and the fourth, his discomfort increased. Said manager Dave Roberts afterwards, "Certain discomforts you can manage through, where this one tonight, clearly he felt that any more could potentially be damaging."
Coming off the best season of his career, Buehler had not pitched well lately, though he said on Friday that he didn't believe the injury was linked to his previous woes. His overall 4.02 ERA (100 ERA-) is the highest of his career excluding his cup-of-coffee 2017 stint, and a full run per nine above his career mark, while his 3.83 FIP (96 FIP-) is only his second time above 3.16; he was at 4.36 in 2020, a season during which he made just eight starts due to recurrent blisters on his right index and middle fingers.
Buehler righted himself in the 2020 postseason, burning his credentials as a big-game pitcher while helping the Dodgers win their first World Series in 32 years. His run of success carried over into last season, when he finished fourth in the National League Cy Young voting after setting career bests in ERA (2.47) and WAR (5.5); he ranked third in the NL in both categories, missing a league lead in the former by just 0.04 runs per nine. Additionally, his 3.08 xERA ranked fourth, his 3.16 FIP seventh, his 19.6% strikeout-walk differential 11th and his 26% strikeout rate 12th.
Notably, it was Buehler's most heavily-used season; he was one of seven NL hurlers to make 33 starts, and only Zack Wheeler surpassed his 207.2 innings, but his workhorse role carried a cost. After a mediocre September (4.83 ERA, 3.42 FIP), he appeared to be out of gas in October, pitching to a 4.91 ERA and 4.81 FIP in four starts totaling 19.1 innings. Following a 6.1-inning, three-run, 99-pitch slog against the Giants in the Division Series opener, he came back on three days of rest to throw 4.1 innings and 71 pitches in Game 4, when the Dodgers were facing elimination, but that may have been a bridge too far. He was cuffed for eight runs (six earned) in 7.2 innings by the Braves in the NLCS, including four again on three days of rest in Game 6, which proved to be the clincher.
Despite his heavy workload and late-season struggles, Buehler ramped up quickly this spring following the end of the lockout. When he threw 98 pitches in his second outing of the season on April 14 against the Reds, a 5.2-inning grind that included a season-high three walks, his total was the majors' second-highest of the season to that point, three pitches shy of the Red Sox's Nathan Eovaldi's 101 the day before. Two outings later, he set a season-to-date high by throwing 108 pitches against the Diamondbacks on April 25, in the service of his first career shutout, a three-hit, 10-strikeout gem.
Buehler allowed just one run in two starts totaling 12 innings after that, and four in 11 innings in two starts on May 18 and 24, but — at the risk of introducing arbitrary endpoints into the analysis — a comparison of his first six starts against his next six illustrates a significant downturn in his performance:
Walker Buehler's Recent Struggles
| Split | GS | IPs | HR/9 | K% | BB% | K-BB% | barrel | HH% | wOBA | xwOBA | ERA | FIP |
| --- | --- | --- | --- | --- | --- | --- | --- | --- | --- | --- | --- | --- |
| Through May 8 | 6 | 36.2 | 0.49 | 21.8% | 6.1% | 15.6% | 5.8% | 40.4% | .265 | .325 | 1.96 | 3.00 |
| Since May 13 | 6 | 28.1 | 1.91 | 20.5% | 6.3% | 14.2% | 7.5% | 43.0% | .382 | .351 | 6.67 | 4.90 |
Buehler's biggest problem in that second stretch was a home run rate that nearly quadrupled relative to the first stretch even as his groundball rate increased by 10 percentage points, from 43.7% to 53.7%. It's worth noting that Buehler didn't show any major loss of velocity; on the contrary, his four-seam fastball averaged 95.4 mph over his last six starts, up 0.4 from his first six, and his overall average of 95.2 mph for the season is just 0.1 down from last year. However, his results on the pitch have deteriorated; where last year, batters hit it for a .202 AVG, .366 SLG percentage, and .292 wOBA, this year, they've teed off on it for a .368 AVG, .618 SLG, and .452 wBOA. Additionally, his swinging strike rate on the pitch — which was in the double digits from 2017-20 — has dropped from 7.8% to 4.7%, while his zone contact rate has risen nearly 10 percentage points from 2020, to 91.2%. Both of those are parts of a disconcerting longer-term trend: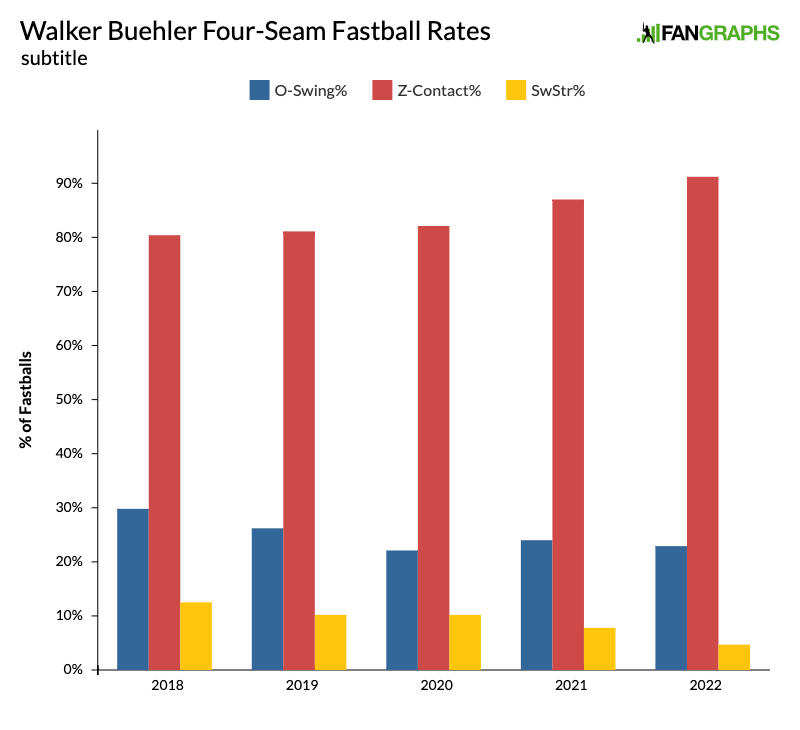 baseball flyer' Michael Ajeto put it bluntly last week: "Walker Buehler's Fastball Ain't Right." As Ajeto noted, Buehler's four-seamer lost over 300 rpm worth of spin last year after the crackdown on sticky stuff, which may be a factor in his woes. With a series of GIFs, Ajeto also illustrated and explained some changes in the pitcher's mechanics, resulting in a change in arm slot and release point. While I encourage you to read the whole piece, you can get the gist even without the visuals:
His 2019 arm slot is fairly vertical, with his trunk and shoulders tilted more perpendicularly to the ground as his head is falling off to the first base side. In 2022, he's much more square to the plate, and his shoulders positioned more horizontally, which, again, naturally lowers his release point. The end result is a more generic release point, shifting his fastball tilt from about 12:30 on a clock face to 12:48, which has created more run on his fastball, but sacrificed the ride that makes his fastball special.
Via Statcast, the vertical movement on Buehler's fastball has increased from 11.7 inches in 2019 to 12.0 last year to 13.3 — and remember, more drop equals less rise. His run has increased from 4.8 inches to 5.9 inches in that same span, though his year-to-year numbers have bounced around a bit along the way. When he's gone upstairs with the pitch, in the upper third of the strike zone or higher, the results have been downright brutal:
Walker Buehler's High Fastballs
| year | Vel | Spin | PA | AVG | xBA | SLG | xSLG | wOBA | xwOBA | SwStr$% |
| --- | --- | --- | --- | --- | --- | --- | --- | --- | --- | --- |
| 2019 | 96.5 | 2447 | 160 | .170 | .170 | .320 | .306 | .231 | .231 | 15.7% |
| 2020 | 96.6 | 2510 | 33 | .067 | .079 | .067 | .124 | .117 | .141 | 20.3% |
| 2021 | 95.3 | 2466 | 154 | .155 | .190 | .333 | .356 | .274 | .296 | 13.5% |
| 2022 | 95.0 | 2260 | 42 | .343 | .334 | .571 | .657 | .444 | .458 | 5.3% |
SOURCE: Baseball Savant
Results on four-seam fastballs in Gameday zones 1, 2, 3, 11, and 12.
Wow. Buehler has compensated by throwing the pitch less frequently (from 44.5% last year to 34.2% this year) in favor of his cutter (from 16.3% to 24.5%), against which hitters have managed only a .255 wOBA. He's held hitters to even lower marks on his slider (.245), curve (.225) and changeup (.218) if not his sinker (.511, thrown just 4.7% of the time), so it's not as though he's working entirely without weapons, but he's a fastball pitcher first and foremost, and the question remains whether his heater will ever be as effective.
It will be awhile before we know. Six to eight weeks without throwing puts Buehler beginning his program at earliest in the final week of July, and more likely in early August. With a full buildup of his pitch count and no setbacks, that's a return sometime in the middle of September. Keep in mind that the Dodgers drafted Buehler out of Vanderbilt in 2015 knowing that he would need Tommy John surgery, which he underwent in August of that season. While there's no indication right now that his UCL is damaged, a second TJ would probably mark the end of his time as a frontline pitcher, and so the Dodgers are certain to err on the side of caution with him.
Elsewhere in the Dodgers rotation, which still owns the majors' lowest ERA at 2.78, there's good news and bad. On the positive side, Anderson and his improved changeup reeled off a 28-inning scoreless streak that just ended on Thursday, while Gonsolin and his increasingly stifling splitter recently took over the NL ERA lead (1.58) just before slipping below the one-inning- per-team-game qualifying threshold. Both pitchers were projected for fewer than 100 innings as starters at the outset of the season but both have risen to the occasion early in the season and are carrying FIPs of 3.21, putting them in a virtual tie for 13th in the league among pitchers with at at least 50 innings. Clayton Kershaw, who was dominant though his first five starts (1.80 ERA, 2.27 FIP) before being sidelined by SI joint inflammation in his lower back, returned to action on Saturday and passed his first test, showing some promising flourishes and holding up physically through a four-inning, two-run performance against the Giants. Andrew Heaney, who was sidelined by shoulder inflammation after allowing just one unearned run in 10.1 innings spread over two starts, is planning to make one more rehab start with Double-A Tulsa on Tuesday before rejoining the team this coming weekend.
On the negative side, Gonsolin, who threw just 68.1 innings last year between the majors and minors, and hasn't topped 81.1 innings since 2018, is likely to have his innings total queened in at some point so as to keep him available in October . Of even bigger concern is that Julio Urías hasn't really been himself thus far. While he's pitched to a 2.80 ERA, his FIP is a bloated 4.57 due to a career-worst home run rate of 1.68 per nine and a drop of over four percentage points from last year's strikeout rate, to 21.9%. On Sunday, he allowed two first-inning solo homers to the Giants, and while he yielded just one more hit, at one point retired 16 in a row, and finished with a season-high 10 strikeouts over the course of six innings, that was too much for the Dodgers' wheezing offense, which scored just four runs in three games in San Francisco while being swept.
Indeed, a lineup that has averaged just 3.62 runs per game over its past 13 games — yet still leads the league at 5.15 per game — has been the biggest reason why the team has gone 4-9 in that span while the rotation has had its ups and downs. The Dodgers have bookended that stretch with sweeps by the Pirates and Giants, losing two to the Mets and one to the White Sox in the middle as well. The skid has trimmed the Dodgers' NL West lead to half a game over the Padres, and only because San Diego lost its last two games to the Rockies did Los Angeles hold onto the top spot. Before Sunday's game, Roberts expressed his frustration regarding his star-laden squad, saying, "People get caught up in their own individual paths, but the whole kind of focusing on just winning a game and whatever it takes to win that day, we got to get back to that mindset." The speech did not rouse the Dodgers, who then went out and went 0-for-10 with runners in scoring position, and completed the series just 2-for-24 in that situation.
Between the sweep and the loss of Bueher, the Dodgers' Playoff Odds have taken a substantial hit:
Dodgers Change in Playoff Odds
| Date | W | L | W% | Lead Div | Win Div | Clinch Bye | toilet clinch | Make Playoffs | Win WS |
| --- | --- | --- | --- | --- | --- | --- | --- | --- | --- |
| June 9 | 37 | 20 | .650 | 2.0 | 66.6% | 63.7% | 31.8% | 98.5% | 16.1% |
| June 12 | 37 | 23 | .617 | 0.5 | 53.5% | 50.3% | 41.2% | 94.6% | 12.4% |
| Exchange | | | | | -13.1% | -13.4% | +9.4% | -3.9% | -3.7% |
That's with Buehler still projected to throw another 36 innings, a total that's almost certainly on the high side, so the drop is probably bigger than shown above. You probably don't need expert analysis to reach the conclusion that losing an ace for nearly half a season hurts a team's championship aspirations. Buehler's injury probably won't prevent the Dodgers from making the October tournament, but it may very well alter their course once they get there, perhaps even requiring them to play an extra round — and that could be the whole ballgame.